The new T-Cross
The small SUV you'll just want
THE NEW T-CROSS.
The complete package
When you meet the T-Cross, you'll see that it's so much more than just a small SUV. You'll see that it perfectly melds urban appeal with functional design, and that it's strikingly stylish and brilliantly versatile. You'll see that it's spacious, clever, and packed with features, and is everything but conventional. Yes, when you meet the T-Cross you'll see all of that, and then you'll see yourself wanting one.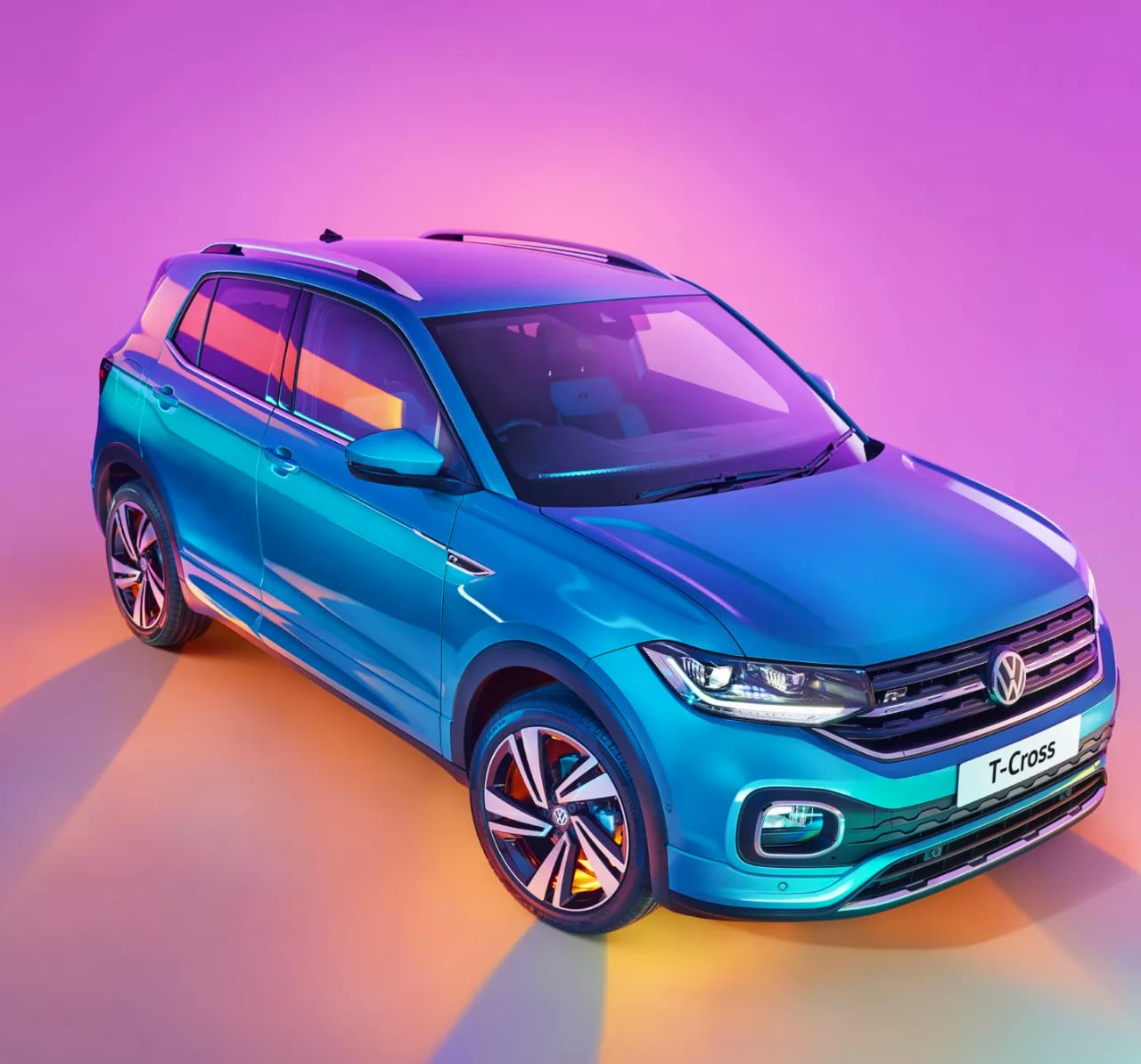 THE NEW T-CROSS.
Makes a statement
The striking design of the T-Cross leaves day to day conventions behind. From its eye catching range of colours to its versatile and spacious interior, the T-Cross is undeniably unforgettable.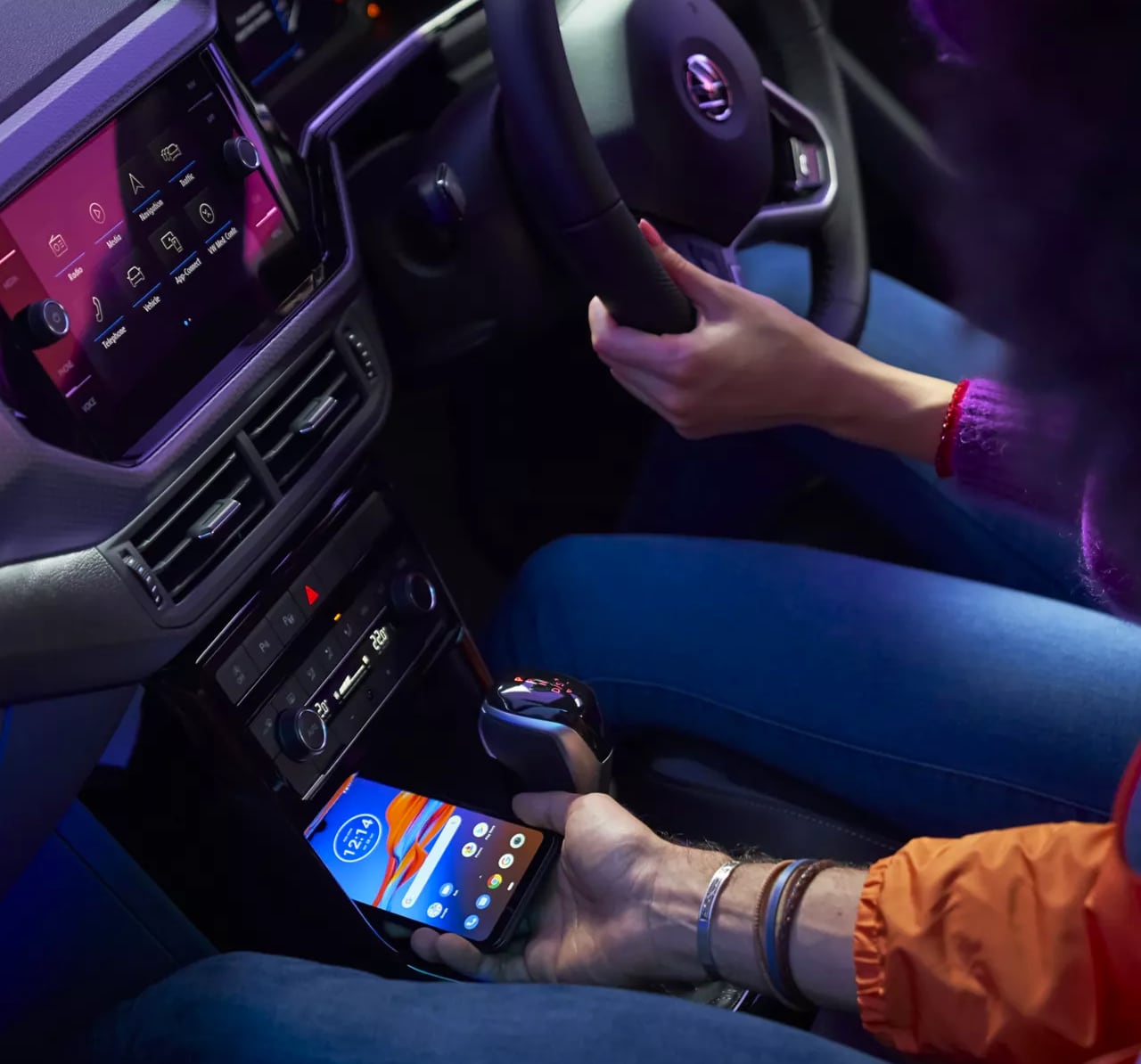 THE NEW T-CROSS.
There while you're having fun
The T-Cross looks funky and fun, but it doesn't skimp on safety and driver assist features. With a stack of innovative technology, the T-Cross assists you and keeps you and your passengers safe while you're out having fun.1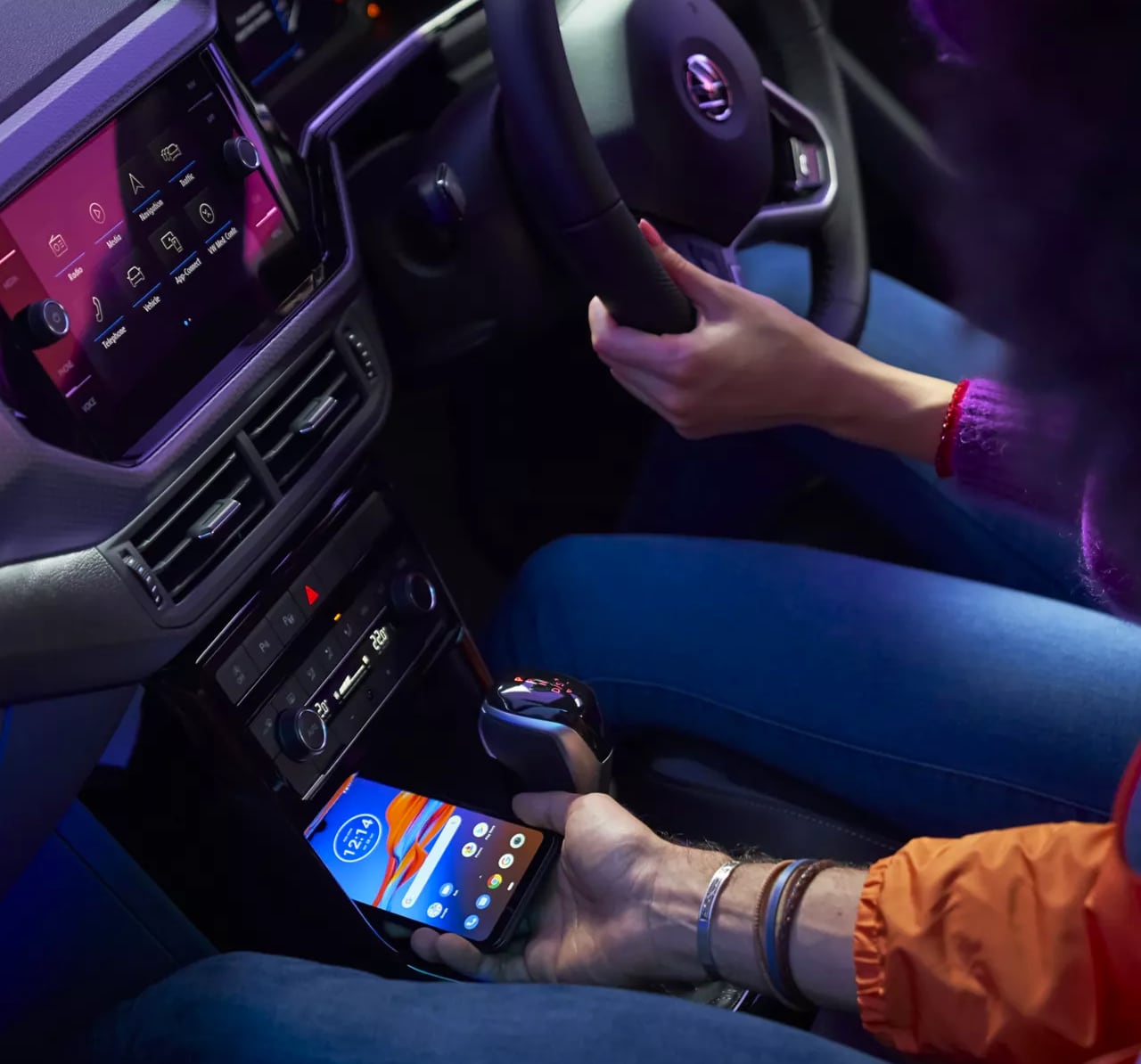 THE NEW T-CROSS.
Smart in more ways than one
Experience complete connectivity in the new T-Cross. Whether you need the latest traffic information, directions to your destination, or just fancy listening to your favourite music, the T-Cross has the smarts.
Design and performance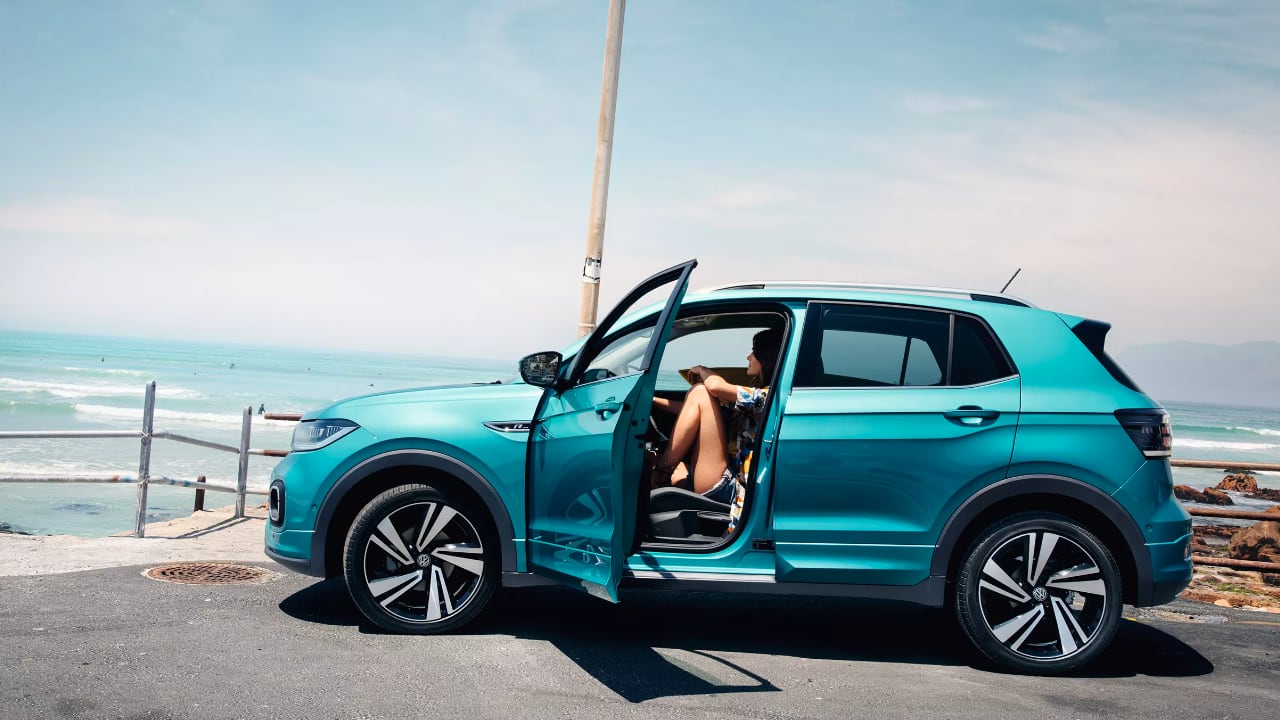 Exterior
Leaves a lasting impression
The T-Cross comes wrapped up in one fun and funky outfit with a range of playful colours. LED tail light clusters take you from day to night, while strong body contours show off athletic wheels. The T-Cross is every bit an SUV yet is nimble enough to take on the urban city scape with ease.
Overseas model shown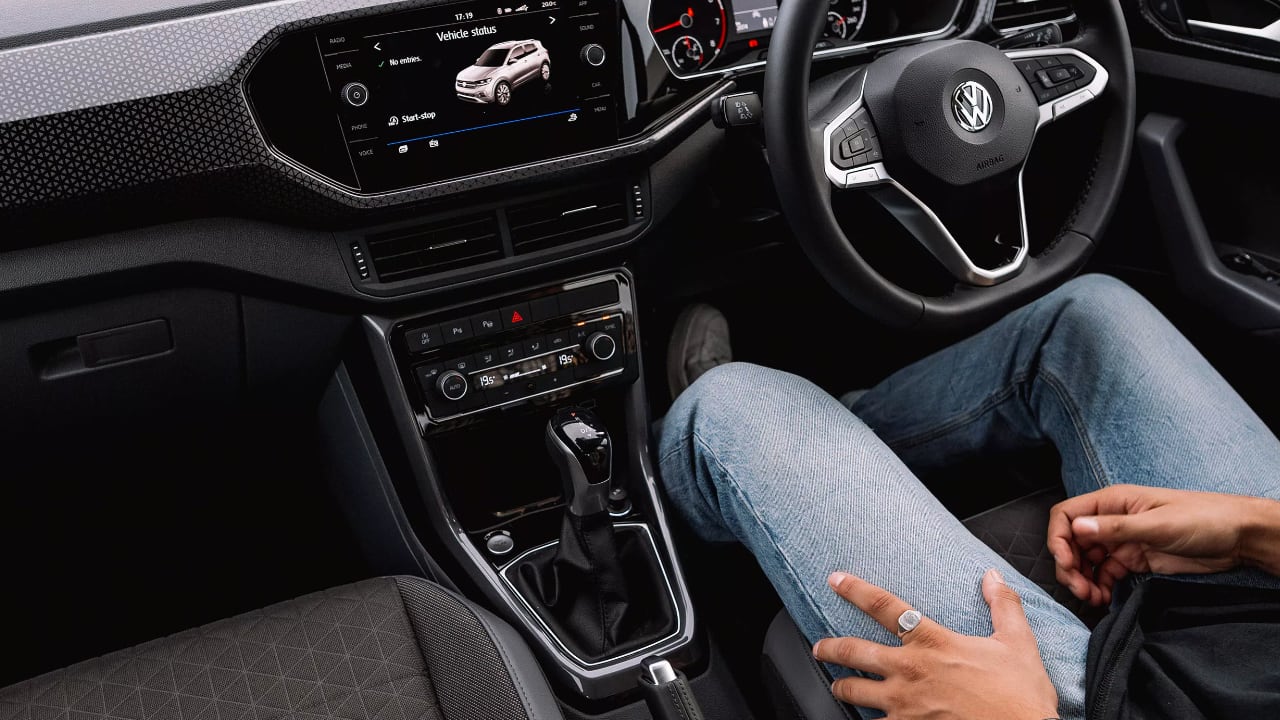 Interior
Compact outside. Spacious in.
Then there's the boot with its large capacity starting at 385 litres that provides enough legroom for even the tallest passengers and space to load up on groceries.
Slide the rear seat forward to increase the capacity to an enormous 455 litres enabling you to fit bulky luggage, or transport large items such as your snowboard! Whatever it might be, the T-Cross can be versatile for you.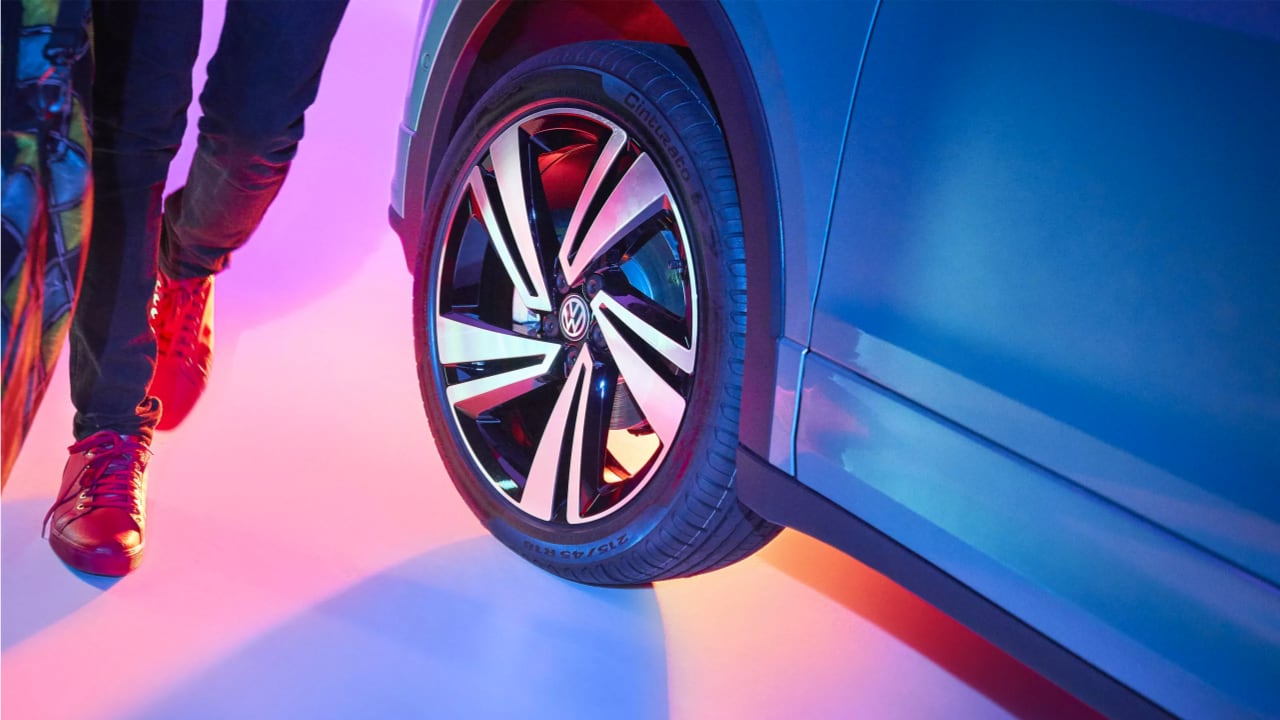 Wheels
Stand out from the pack
Classically elegant or dynamically sporty? There are plenty of alloy wheels to choose from. From 16 to 18 inches, choose to be different.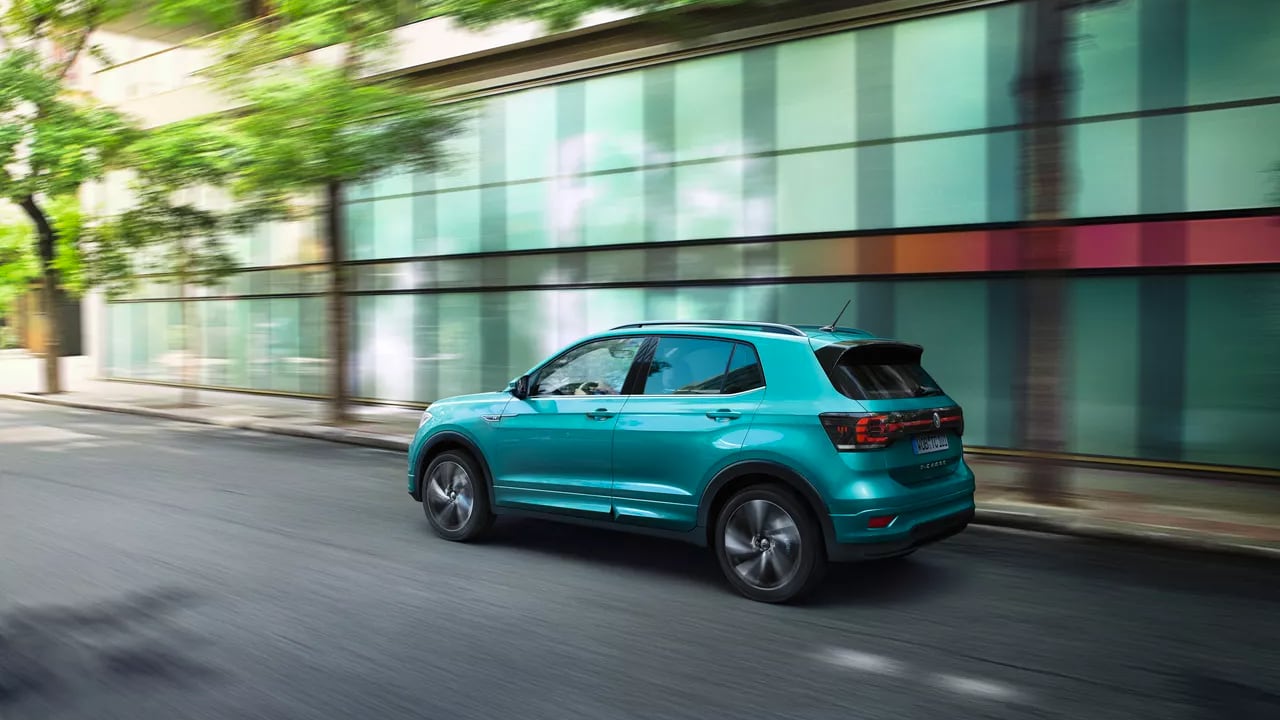 Engine
Zippy and efficient
The T-Cross' 1.0L turbocharged TSI engine and DSG transmission packs enough punch to zip around traffic and own steep hills for a confident exciting drive.
Overseas model shown
Safety with I.Q Drive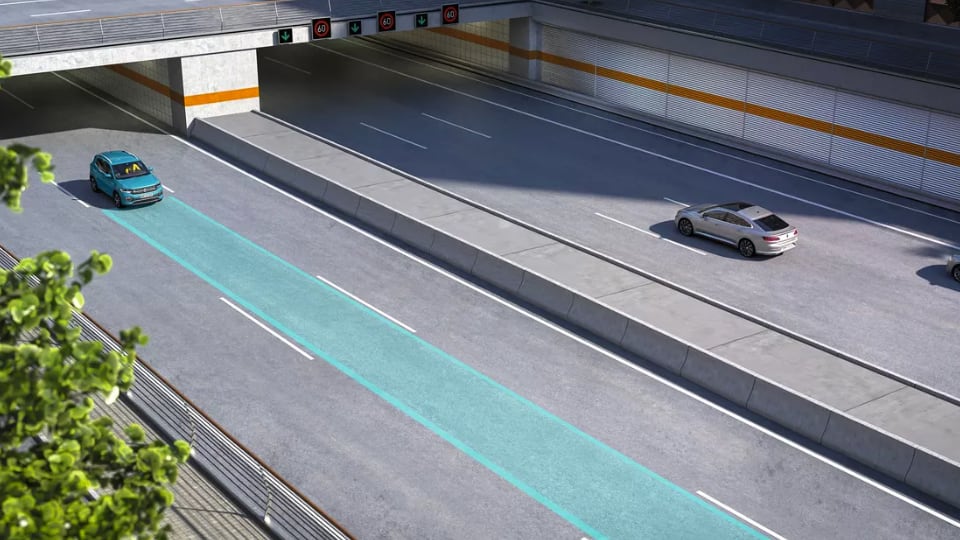 Lane Assist
Keep in line
Lane Assist comes as standard and can determine when you're about to leave your lane. Lane Assist responds by counter steering and helping to keep the vehicle within the lane.1
Download Specs
Book a Test Drive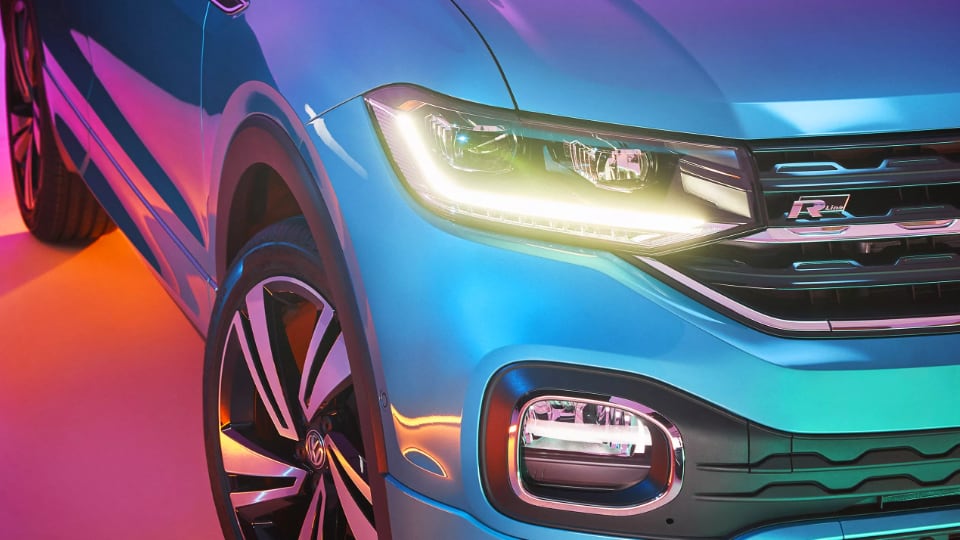 Light Assist
Lighting your way
Light Assist automatically turns on your high beams when needed and will dip it automatically when other vehicles are detected ahead to improve driver visibility and safety. 1
Only available on Style
Download Specs
Book a Test Drive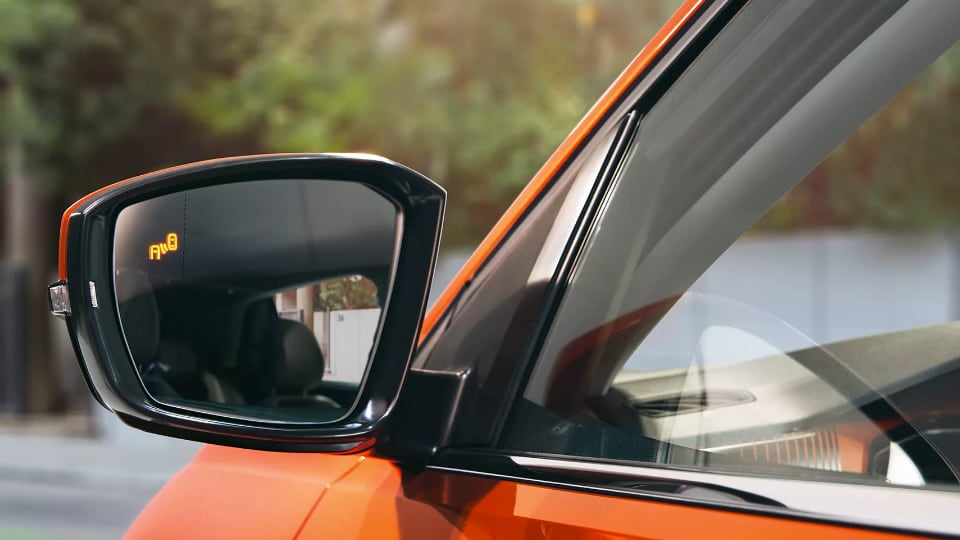 Blind Spot Monitor and Rear Traffic Alert
Sees what you don't
The T-Cross' Blind Spot Monitor assesses and avoids dangerous situations by detecting cars and motorcycles in your blind spot, and highlights these via a LED indicator in the door mirror. Rear Traffic Alert warns of approaching traffic at the rear of the car when reversing.1
Overseas model shown
Download Specs
Book a Test Drive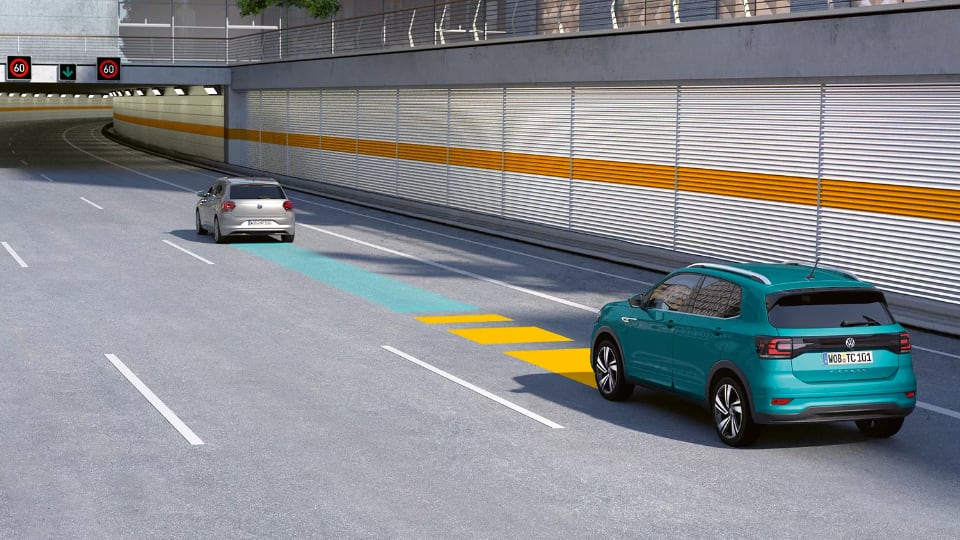 Adaptive Cruise Control
Cruisingcomfortably
The T-Cross makes driving on busy motorways a breeze. At the touch of a button the optional Adaptive Cruise Control senses the distance between you and the car in front, automatically braking or accelerating to maintain that distance. If need be, it can bring your vehicle to a complete stop.1
Only available on Style
Download Specs
Book a Test Drive
Technology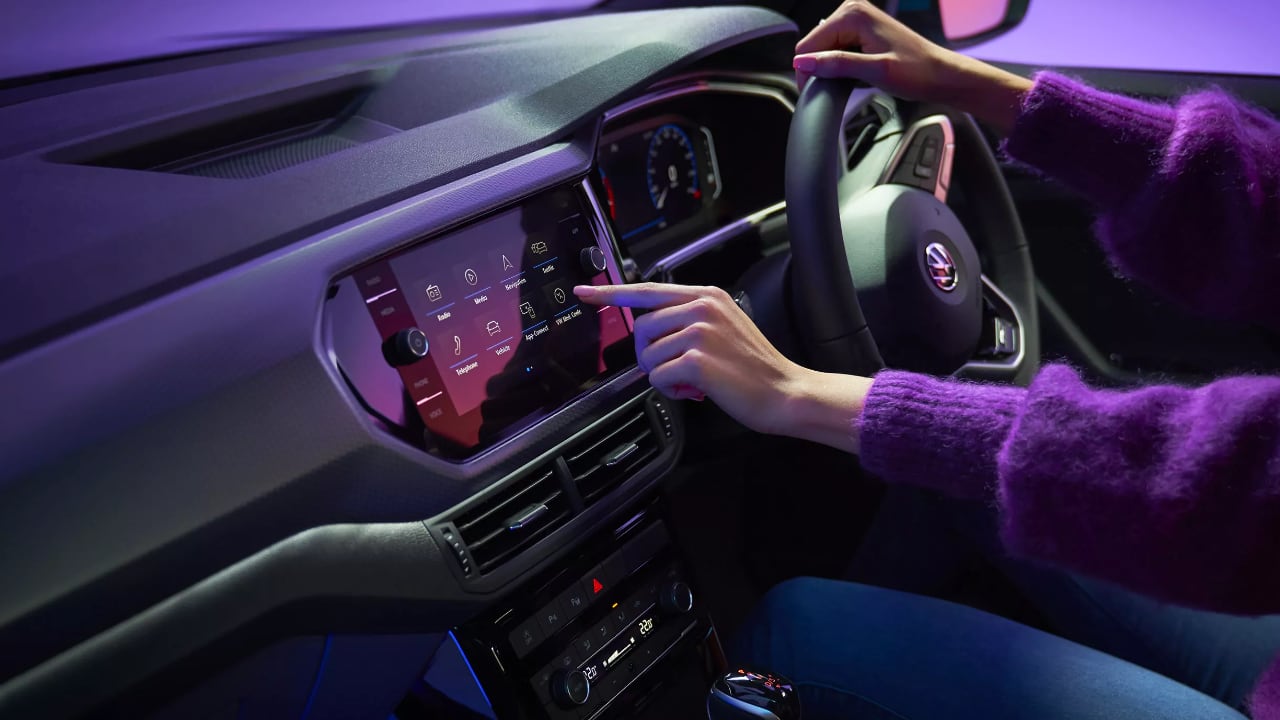 Infotainment
Never a dull moment
In your T-Cross you decide what's on. The 8" infotainment system features clever tech that allows you to do anything from adjusting your external lights to connecting your phone using app-connect2 to get your favourite tunes pumping.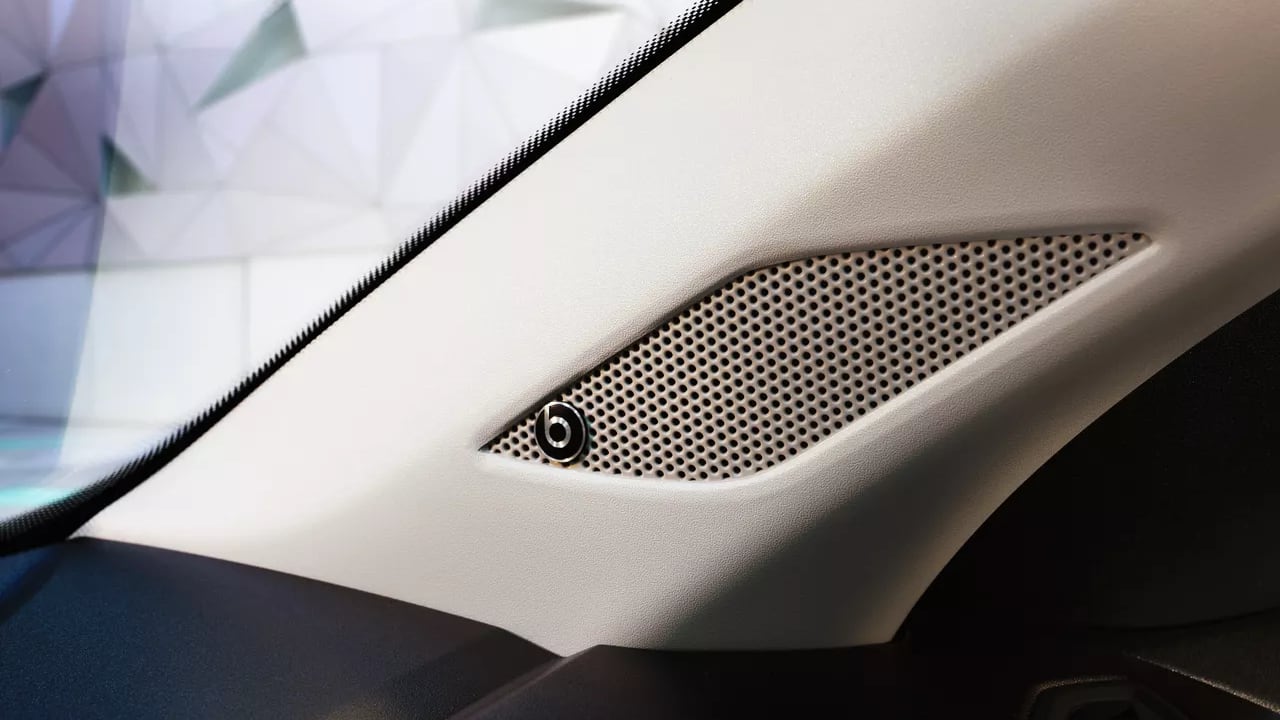 beatsTM Premium Audio System
Music for the streets
When it comes to sound, the T-Cross is no amateur. Optional beatsTM premium audio delivers 300W of pure unadulterated sound, and the subwoofer and amplifier deliver a sound so powerful, it's like listening to your favourite track for the first time all over again.
Available in Sound and Vision Package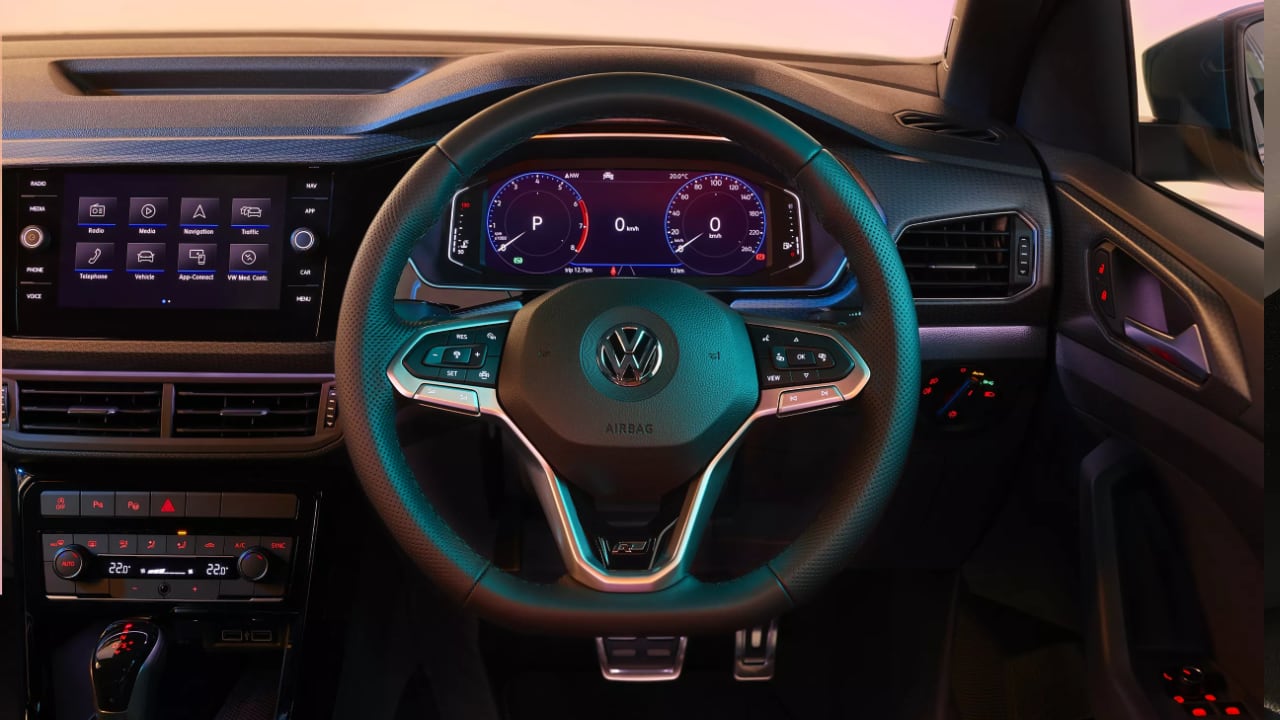 Digital Cockpit
Everything you need right in front of you
The revolutionary next-gen Digital Cockpit makes the T-Cross the most intuitive small SUV around. Personalise your drive by customising your digital display to your liking. Transform your instruments to a full navigation map display, customise gauges and trip data.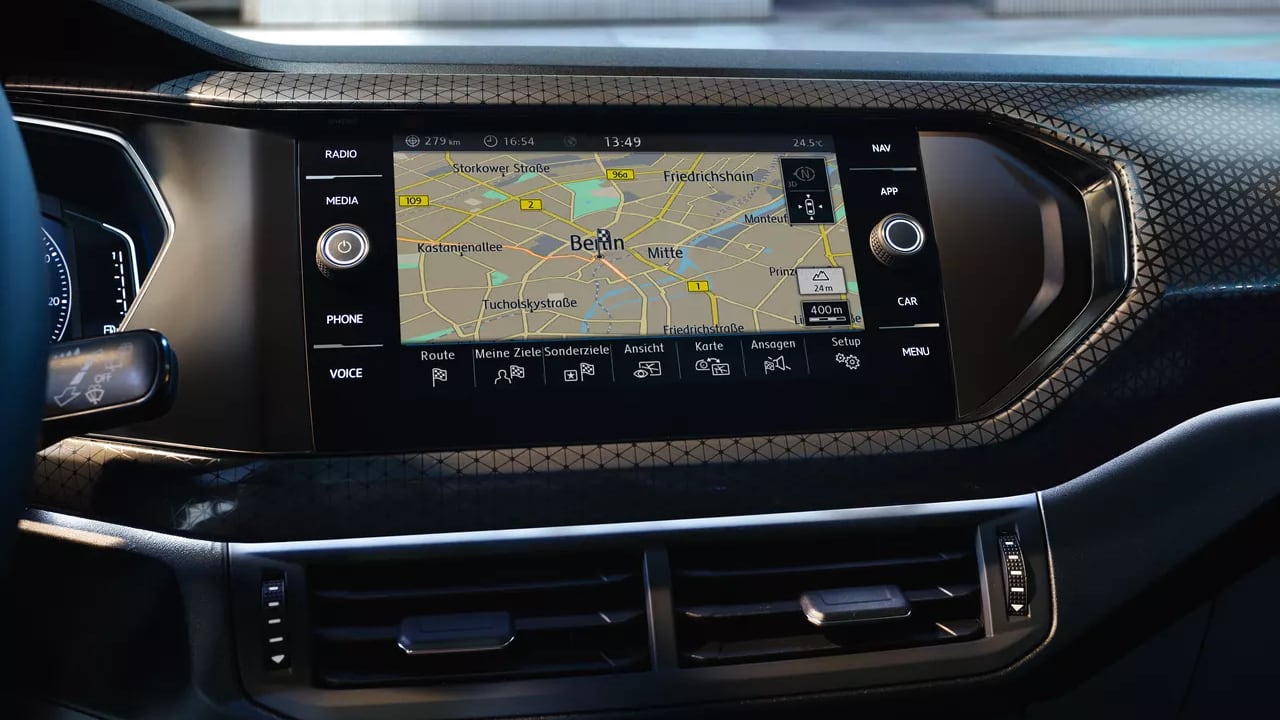 Discover Media Navigation
Dare to explore
The T-Cross' excellent navigation features make driving a breeze with the discover media navigation system. Maps can seemlessly be displayed right in front of you on the digital cockpit, so you never need to take your eyes off the road.
Overseas model shown
Discover the range.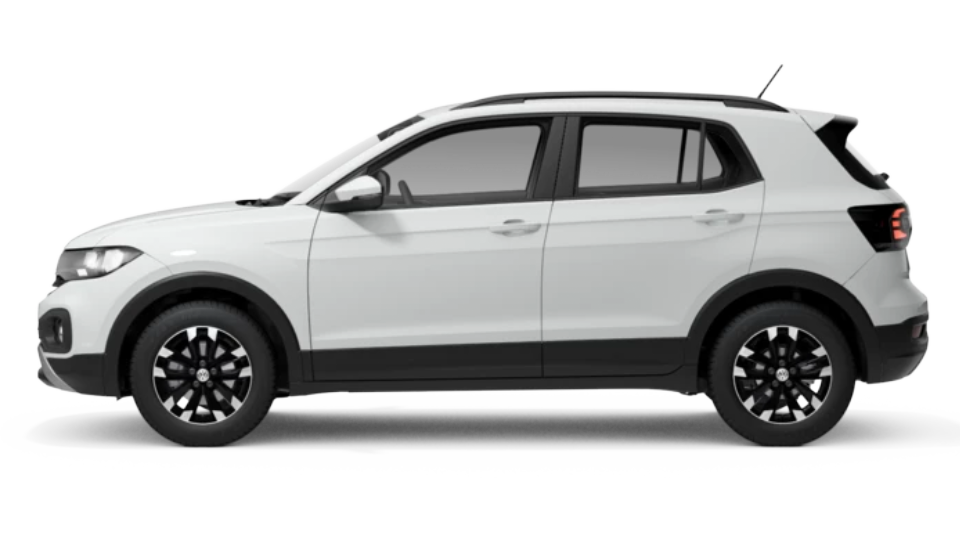 85TSI Life
Features of 85TSI Life
Engine: 1.0 litre TSI
85 kW
Composition Media audio system
Lane Assist, lane departure warning system
Front Assist with City Emergency Brake (City EB) function
Rear View Camera (RVC) with static guidance lines
Parking distance sensors, front and rear with Manoeuvre Braking
Alloy wheels (Rochester) 16"
Book a Test Drive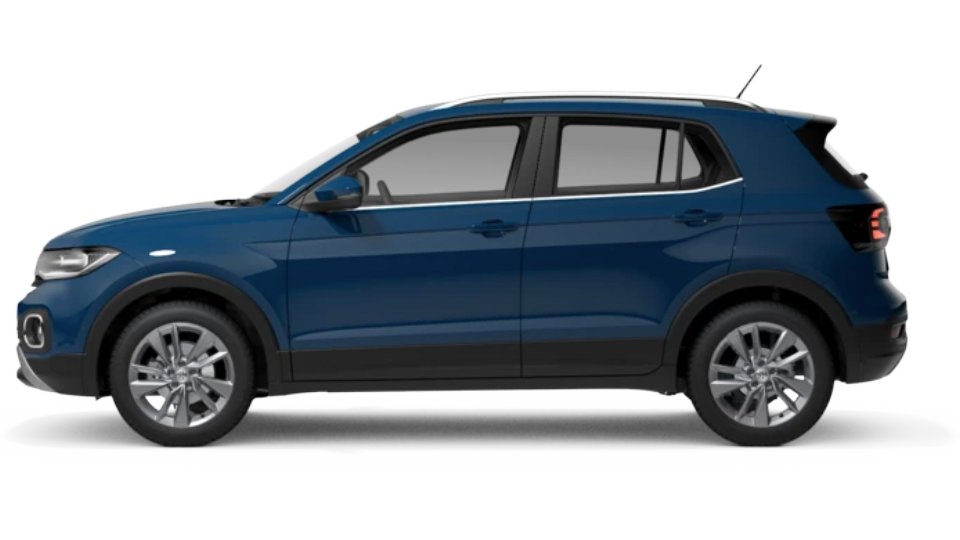 85TSI Style
Engine: 1.0 litre TSI
85 kW

Air conditioning, Dual zone climate control
Blind Spot Monitor with Rear Traffic Alert; Lane Assist, lane departure warning system
Adaptive Cruise Control (ACC)
Keyless Access, keyless entry and starting system
Alloy wheels (Bangalore) 17"

Book a Test Drive